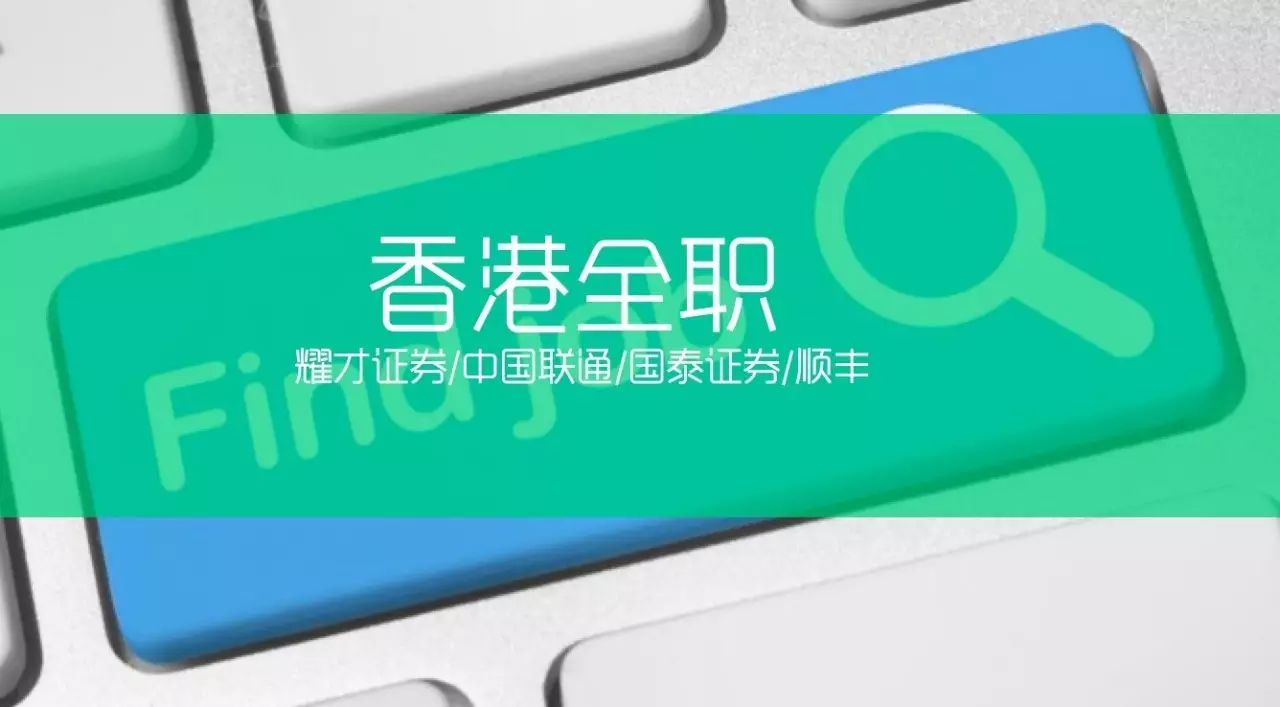 港漂圈求职每日全心全意为您整理发布最新最热的第一手招聘信息,继续关注【港漂圈求职】,更多优质职场资讯等待着您!
耀才证券 - Accounting Officer
中国联通 - Product Officer - Corporate Sales
顺丰 - Assistant Marketing Officer / Marketing Executive
1. Handle expenses and accounts payable transactions;
2. Perform daily accounting functions including voucher inputs, payment and bank reconciliation;
3. Perform checking of daily accounting entries;
4. Assist in month end closing and annual audit preparation; 
5. Undertake ad hoc duties as assigned by Manager.
1. Higher Diploma or above in Accountancy, Finance or related disciplines;
2. Minimum 2 years of accounting experiences;
3. Responsible, hardworking, well-organized and a good team player;
4. Proficient in MS Excel and Chinese Word Processing.
http://hk.jobsdb.com/hk/en/job/accounting-officer-100003004858124?triggerQA=true&IsInPopupPage=true&applySource=5
Product Officer - Corporate Sales
1. Assist Product Manger to manage multiple projects and digital products development, from opportunity discovery to service operation.
2. Manage the product line towards target
3. Coordinate the daily operations and provide administrative support
4. Work closely with internally and externally parties to ensure smooth running of the projects
5. Assist in drafting contract commercial terms and related checking and negotiation
6. Conduct market research and other ad hoc assignment
1. Bachelor's degree or above in Information Technologies, Computer Science / Engineering, Telecommunication Engineering or relevant discipline
2. 2-3 years working experience in Telecom, Digital product or Internet industry
3. Self-motivated, well-organized and good communication skills are essential
4. Good command of spoken English and Chinese, Putonghua an advantage 
Interested parties please send your full resume with current & expected salary to:
hrdept@hk.chinamobile.com
1. Assist the portfolio managers to monitor cash activity and investment restrictions
2. Organize and communicate trading/market information to the team
3. Handle inquiry from investment team and other teammates
4. Work closely with back office on post trade work and resolve trade issues
5. Perform other non-trading related duties as assigned
1. Degree in Finance or related business discipline
2. Preferably three year of trading experience in related to equities and fixed income
3. Holder of SFC license RA1 & 4 or pass LE Paper 1
4. Shift duty is required, willing to work on night shift and public holiday
5. Experience in serving institutional clients
6. Proficient with Bloomberg and PC skills, with VBA or other programming languages will be an advantage
7. Good command in spoken & written Chinese, English, fluency in Mandarin is a MUST
8. Able to handle multi-task and work under high pressure environment
9. Self-motivated, work independent details oriented
http://hk.jobsdb.com/hk/en/job/dealer-100003004858632?triggerQA=true&IsInPopupPage=true&applySource=5
Assistant Marketing Officer
1. Prepare the related information for marketing research and draft the cooperation proposal 
2. Assist in identifying and executing of primary research where appropriate
3. Implement and follow-up sales approaches
4. Provide product analysis and evaluation report
5. Coordinate with internal departments for product launching / enhancement
6. Perform ad-hoc duties as assigned
1. Degree holder in Marketing, Business Administration or related discipline
2. At least 1-3 years' experience in marketing with logistics experience is preferred
3. Good numerical and analytical as well as trend projection skill
4. Proactive and able to work under pressure with multi-tasking ability
5. Good in interpersonal and communication skills
6. Good command of spoken / written English, Mandarin and Cantonese
7. Good computer skill in Excel and Power point and Chinese word processing 
Please apply in WORD format (quoting Ref. No. gpqcareer) together with a detailed resume, stating current and expected salary, to: